Carl Padovano's family was interviewed by Bob Meli and in it was described his full journey as a Marine in World War II.
To view this interview please click here.
In addition, a 1965 article also explains his experience as a Marine and how he got
through it.
Along with many items Carl saved from when he was in battle, the Quest Sermon, delivered by Ronald B. Gittleson, was filled with words that Carl did not hesitate to live by.

To view this sermon, please click here.
As a Marine, Carl Padovano received a Bronze Star and a Purple Heart with recognition to the sacrifices he made.
To view a listing of all medals a veteran can receive, please visit our
To view the temporary citation awarded to Carl Padovano for the
Bronze Star please click here.
Carl Padovano is a Veteran of World War II and we salute you.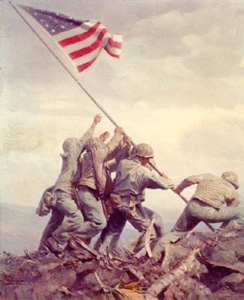 The Battle of Iwo Jima
February 19, 1945 - March 26, 1945

Material Researched by: Bob Meli 2007