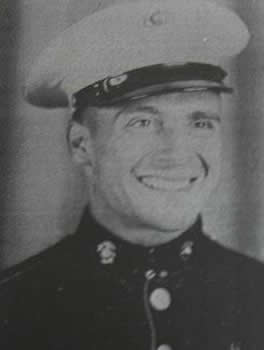 Private First Class Armand Allessandrini,
age twenty nine, was killed on Iwo Jima
March 8th, 1945.
Armand was born in New Milford, N.J., and lived
at 238 Eagle Avenue all his life.
He enlisted in the Marine Corps on February 8, 1943, and
trained at Parris Island, South Carolina; New River,
North Carolina; and Camp Pendleton, California.
He was sent overseas in January 1944, with the fourth
Marine Division and served through the Marshall Islands,
Saipan, and Tinian Campaigns in the South Pacific,
before he was lost at Iwo Jima.
Armand received a Presidential Citation, and a Citation from
Secretarty of the Navy, James Forrestal, for his outstanding
performance in combat at Saipan and Tinian. He also received the
Purple Heart and his Asiatic-Pacific ribbons.
Newspaper Article April 10, 1945
Original Article and Recopied Article
1946 Hackensack High School Yearbook Dedication Page
Background image of American Flag being raised obtained from:

www2.bc.edu/zachary-s-laub/World%20War%202%20Final.html