John Park Hart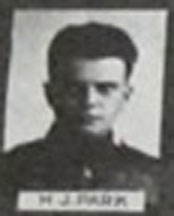 Click on photo to view Hackensack Heroes

John Park Hart is mentioned in the Hackensack High School paper first in the "Senior Honor Roll", which I believe is a list of those who are serving in the Armed Forces. The paper also mentions him in another article that he is in the service.
J. Park Hart is also listed with the names of the graduating seniors.
SEVEN HACKENSACK BOYS AT FORT SLOCUM , April 26, 1918.
J. Park Hart and Russell S. Hastings are both mentioned in this article. They are being stationed in Camp Slocum N.Y. They had successfully passed the Medical Corps exam.
TWO HACKENSACK BOYS GET TRANSFERS FROM FORT SLOCUM , May 14, 1918.
J. Park Hart was being transferred to Fort Wadsworth, which I believe is in Texas .
EUGENE BREEN HAS SPANISH INFLUENZA, September 30, 1918.
This article heading reveals the popularity of Eugene Breen, but it mentions that J. Park Hart is seriously ill in a camp near Gettysburg .
I did not come across an article yet (August 2009) of J. Park Hart's death, but he did die of the flu shortly after this because his name is on the plaque in the Library and at the cemetery honoring those who died during World War I.