George Toriello sent me this material on Dominic C. Cafasso on January 11, 2020. 
Dominic C. Cafasso's name is on the Plaque at City Hall in Hackensack, New Jersey, which confirms his connection to Hackensack, but he may not have graduated from Hackensack High School.

Ancestry website states that Dominic C. Cafasso was born in Hoboken, New Jersey in 1918 and according to the 1930 Census; the family was living on 9 Vreeland Avenue in Hackensack, New Jersey when Dominic was 12 years old, and the census at the time spelled his name with a "K" at the end. 

Military records show that he was a Private First Class HQ Company 19th Bombardment Group "V" Bomber Command with a B-17 Flying Fortress Aircraft.   Dominic C. Cafasso was captured by the Japanese while in the Philippines, and was held at *POW Camp #4 O'Donnell, Tarlac, Luzon, Philippines.   He died in the prisoner of war camp very early in the war on May 29, 1942 at the age of only 24.  Camp O'Donnell was where great atrocities of the Japanese Army took place.  The thousands of American and Philippine servicemen who surrendered to the Japanese were forced to march in the now infamous "Battan Death March".

Click here for further information from the Encyclopedia Britannica. 

Dominic C. Cafasso posthumously received the Prisoner of War Medal and the Purple Heart.

 Dominic C. Cafasso is buried at the Manila American Cemetery and Memorial Capital District,
National Capital Region, Philippines Plot F Row 5 Grave 79.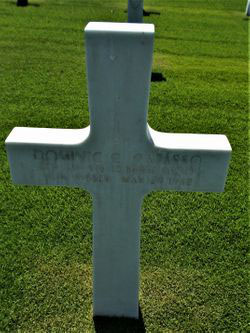 Let us never forget his sacrifice.  
Written by:
Bob Meli
February 25, 2020