Colonel Christopher R. Valle is the Vice Commander, 81st Training Wing, Keesler Air Force Base, Mississippi . The 81st Training Wing provides technical training for officers, enlisted and civilians of the U.S. Air Force, Air National Guard and Air Force Reserves as well as other Department of Defense agencies. Keesler AFB technical training includes numerous electronic, computer, weather, medical, personnel, comptroller, and information management career fields, creating the combat capability for Air Expeditionary and Space Forces.

Colonel Valle was born and raised in Hackensack , New Jersey and is a 1985 graduate of the United States Air Force Academy. He completed pilot training in Columbus, Mississippi and is a command pilot with over 4,200 flying hours in the C-141B, C-20A, and C-21A.
Prior to his current assignment, Colonel Valle completed a joint tour in U.S. Transportation command at Scott Air Force Base, serving as Airlift Team/Industry Branch Chief and Executive Officer to the
Deputy Commander.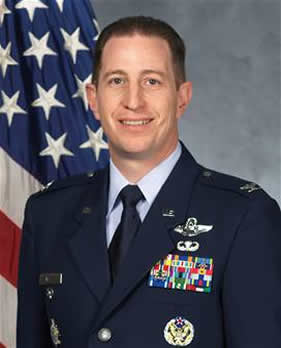 Rollover Christopher Valle's Military photo to view his
Hackensack High School 1980 Yearbook Photo
EDUCATION:
1985 Bachelor of Science, United States Air Force Academy, Colorado Springs, CO
1992 Squadron Officer School, Maxwell AFB, AL
1996 Master of Science, Human Factors in Aviation Systems Specialization, Embry-Riddle Aeronautical University, FL
1997 Master of Air Mobility, Air Force Institute of Technology, School of Logistics and Transportation, HQ Air Mobility Warfare Center, Fort Dix, NJ
2000 Master of Operational Art & Science, Air Command and Staff College, Maxwell AFB, AL
2005 Master of Strategic Studies, Air University, Air War College,
Maxwell AFB, AL
ASSIGNMENTS:
• July 1985 – June 1986, Student Pilot, Columbus AFB, MS
• October 1986 – March 1990, C-141B Instructor Pilot, 41st Military Airlift Squadron, Charleston AFB, SC
• April 1990 – April 1993, Flight Commander/C-20A Flight Examiner Pilot, 58th Airlift Squadron, Ramstein AB, GE
• May 1993 – February 1995, Chief, C-141B Group Stan/Eval, 305th Operations Group, McGuire AFB, NJ
• March 1995 – April 1996, Student, Advanced Studies of Air Mobility, Air Mobility Warfare Center, Fort Dix, NJ
• May 1996 – July 1999, Chief, AEF Implementation Branch, War and Mobilizations Division, HQ US Air Force, Pentagon
• August 1999 – August 2000, Student, Air Command & Staff College, Air University, Maxwell AFB, AL
• September 2000 – February 2002, Operations Officer, 4th Airlift Squadron, McChord AFB, WA
• April 2002 – May 2004, Commander, 459th Airlift Squadron, Yokota AB, Japan
• June 2004 – May 2005, Student, Air War College , Air University, Maxwell AFB, AL
• June 2005 – March 2007, Airlift Team Chief / Industry Branch Chief, Programs & Analysis Division, Strategy, Policy, Programs & Logistics Directorate, United States Transportation Command, Scott AFB, IL
• April 2007 – May 2008, Executive Officer to the Deputy Commander, United States Transportation Command, Scott AFB, IL
• June 2008 – Present, Vice Commander, 81st Training Wing, Keesler AFB, MS
FLIGHT INFORMATION:
Rating: Command Pilot
Flight hours: 4,200+
Aircraft flown: C-141B, C-20A, C-21A, T-38A, and T-37B
MAJOR AWARDS AND DECORATIONS:
Defense Superior Service Medal
Air Force Meritorious Service Medal, with four oak leaf clusters
Air Medal
Aerial Achievement Medal, with one oak leaf cluster
Joint Meritorious Unit Award
EFFECTIVE DATES OF PROMOTION:
Second Lieutenant – 29 May, 1985
First Lieutenant – 29 May, 1987
Captain – 29 May, 1989
Major – 1 April, 1997
Lieutenant Colonel – 1 September 2001
Colonel – 1 April 2007

(Current as of June 2008)