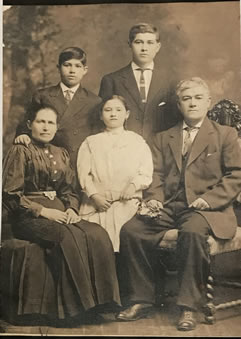 Nana's Parents: Gaetano Meli and Filomena Zisa, and her two brothers Ralph and Benny
Information about this photo provided by Elizabeth (Puglisi) Andrew and Edith (Puglisi) Terzano, grandchildren of Nana, January 22, 2020. Edith Terzano's husband is Gary Terzano who served in the Army during the Vietnam War.
"To answer your question, my name is Edith Puglisi Terzano and my sister's name is Elizabeth Puglisi Andrew. We are Nana's grandchildren.

I've made a couple of corrections for the caption:
Filomena (Zisa) Meli and her husband Gaetano Meli, seated in front, were the parents of ten children, while living in Sicily. The tallest person standing in the back row is their ninth child, Biagio (Ben) Meli, who was born in 1895. Standing to his right is their tenth child, Ralph Meli, who was born in 1898. The young girl in the photo is their granddaughter, Gaetana Falcone. Not in the photo is Gaetana's mother, Maria, who was born in 1880. Maria was the third daughter of Filomena and Gaetano.
In 1906, Filomena traveled to America with her two sons, Ben and Ralph, her daughter Maria, and Maria's daughter Gaetana. This photo was probably taken around the time of the 1910 Federal Census when Ben Meli would have been 16, Ralph Meli,13 and granddaughter Gaetana Falcone would have been 9 years old."