Bank exec Clifford Coyman dies
The Record
TUESDAY, APRIL 30, 2013
BY JAY LEVIN
STAFF WRITER
THE RECORD

Clifford H. Coyman, a gravedigger's son from Hackensack who ascended to the highest levels of New Jersey banking, died Sunday at his home in the city. He was 86.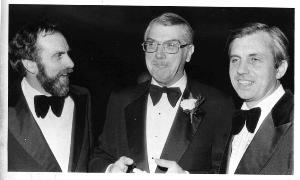 Debra Coyman said her father, 86, 'firmly believed' a good job would be rewarded.
He retired in 1990 as president and chief executive of Hackensack-based United Jersey Bank, then the
lead bank of UJB Financial Corp.
The youngest of six children, Mr. Coyman "always considered himself a poor kid from Dock Street," said his daughter, Debra Coyman, referring to a small street in Hackensack that no longer exists.
Mr. Coyman was 14 years old when his father was killed by a drunken driver. His mother took in laundry and operated the elevator at what was then Hackensack Hospital.
After graduating from Hackensack High School in 1944, Mr. Coyman went into the Navy.
He served as a radar man in the Pacific Theater.
Returning home in 1946, he took a job as a draftsman. Then he found bookkeeping work at the
Hackensack Trust Co. on Fairmount Avenue.
"The way he told the story, he knew draftsman would not be a career that would allow him to advance, so he looked for something where he could get ahead with just a high school degree, and figured banking would be a good place," his daughter said.
Banking was a good place. Mr. Coyman moved on to the Peoples Trust Co. of Bergen County and was elected a vice president in 1965. Seven year later, he became president of United Jersey Bank, which had absorbed Peoples Trust.
He added the title of CEO in 1976.
A hands-on executive, he was pictured in a 1979 issue of American Banker magazine introducing United Jersey's kitchen appliance promotion to employees in the Westwood branch. He demonstrated a corn popper, a toaster, a food processor and a microwave oven.
Mr. Coyman held leadership roles in many social, business and charitable organizations, including the United Way of Bergen County, the Boy Scouts and the Aviation Hall of Fame of New Jersey.
He was chairman of the New Jersey Bankers Association in 1985-86.
Mr. Coyman never attended college, but Peoples Trust sent him to a Harvard Business School advanced
management program for a semester.
"My father considered himself the recipient of very good fortune and the beneficiary of very good mentors," his daughter said. "He firmly believed that if you put your head down and did a good job, you would be rewarded."
In addition to Debra Coyman, of Falmouth, Maine, Mr. Coyman is survived by another daughter, Lori Anders of Harrington Park, and two grandchildren. His wife, Dora Lyn, died in 2010.
Visiting hours will be Thursday from 6 to 9 p.m. at Becker Funeral Home, Westwood. The memorial service will be held Friday at 10:30 a.m. at the Community Church in Harrington Park.